No Budget Film School includes Axium Software with classes
The No Budget Film School will be presenting their next "Art and Science of No-Budget Filmmaking" course on October 21 and 22. They have announced that attendees will receive free copies of Axium Scheduling and Axium Budgeting software free – a regular value of US$400. The two day immersive class will reveal the secrets of micro-budget filmmaking (from $0 to $250,000).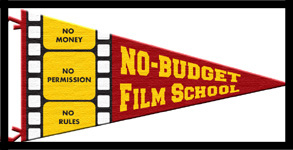 NBFS founder and instructor Mark Stolaroff, an independent film producer and former principal of Next Wave Films, will be joined by several special guest speakers, including Paradigm Consulting President Peter Broderick (former president, Next Wave Films); 2929 Productions' Senior Vice President Mike Upton; PlasterCity Digital Post Director of Operations Michael Cioni; and Ron Judkins, two-time Oscar" winner for Sound ("Saving Private Ryan," "Jurassic Park"; director, "The Hi-Line").
Creative Planet's Digital Production BuZZ podcast interviewed Mark Stolaroff on its June 16, 2005 show and Peter Brodkerick on the June 9 show in 2005.
In the NBFS course, students learn the practical rules of micro-budget production that can be applied whether the budget is $2,000 or $200,000. The class is designed for filmmakers who are ready to start producing a feature, no matter how much money is raised. NBFS is practical, rather than anecdotal, allowing filmmakers to apply the tools immediately to their upcoming projects, saving time and money, as well as preventing costly and sometimes fatal mistakes. In the course students are guided line-by-line through a budget and taught where and how to spend money, and more importantly, where not to spend money.
Most importantly, students will be taught where to prioritize their very limited resources, learning that qualities like good acting, strong storytelling, and uniqueness are far more important than elements like format resolution.
The two-day class runs from 10:00 a.m. to 6:00 p.m., on Saturday and Sunday, October 21 and 22, 2006, at Raleigh Studios' Chaplin Theater, located at 5300 Melrose Avenue in Hollywood. Tuition for the two-day class is US$325.00 at the door; US$275.00 prepaid; US$225.00 for prepaid members of qualifying film organizations; and US$200.00 for prepaid students with a valid student ID.†