[Originally published on Aug. 16, 2015 by Larry Jordan.]

(Read Larry's disclosure statement on product reviews.)
Final Cut Library Manager is a program that I first learned about it last year. Since then, Timothy Armes, Vincent Zorzi and the team at ArcticWhiteness have continued to grow the program.
In this article, I wanted to update my comments on this program so I downloaded the latest free trial and checked the ArcticWhiteness website for notes on the latest version.
EXECUTIVE SUMMARY
Final Cut Library Manager is an essential Final Cut utility that allows you to do things with Final Cut Pro X library and media files files that are either impossible or enormously time-consuming to do any other way.
Product: Final Cut Library Manager v. 2.70
Developer: ArcticWhiteness
Website: www.arcticwhiteness.com
MSRP: 19 Euros / $21.11 US
WHAT IT DOES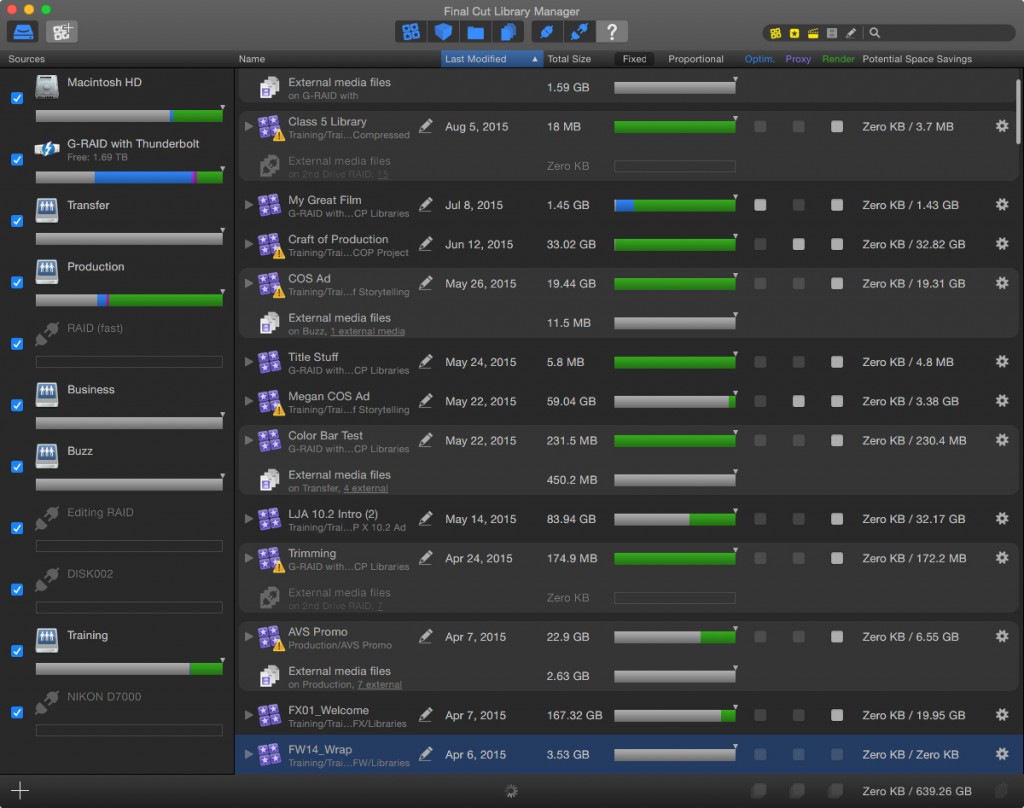 (Click to display a larger image.)
Final Cut Library Manager instantly displays all of the Final Cut Pro X libraries and associated media that it finds on your Spotlight-indexed drives. You can also add other sources: including disks, Xsan volumes or folders, including those not indexed by Spotlight. It allows you to look into a Library without having to open Final Cut Pro. Events and projects are displayed, along with lots of useful information. (ArcticWhiteness website)
It allows you to:
Display all libraries on all connected hard disks; and it remembers libraries that it once displayed for all hard disks that are not currently connected to the computer
Create templates from an existing library. This allows you to prepare a standard library in Final Cut Pro X containing keywords, files, Smart Collections – then use Final Cut Manager to duplicate it and create a library template for future use.
Track all libraries and the media they contain.
Get rid of media, cache files and generated media that you no longer need in one or multiple libraries with a single mouse click. You can also get rid of shared media and stabilization data files.
Search for library names, event names, project names, clip names, notes, comments and keywords without opening Final Cut Pro X.
Create folders of shared libraries which enables faster collaboration between editors.
Sort and search just about everything
Display and edit Finder Comments for each library.
Here's a list of all the current features.