Complaint 1: Installation software was password protected and inaccessible.
Results: Fixed. All drivers, installation software and firmware are easily accessed at this website: http://www.hptmac.com/series-rs6314a-resources.php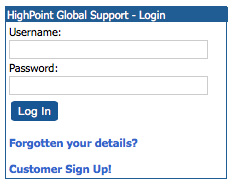 Complaint 2: Support for new users, especially FAQs on installation, is password locked.
Results: Partially fixed. Quick Start and User Guides are easily available on the product page. Accessing support still requires a customer ID, though that ID does not require you to first purchase a product.
Complaint 3: The installation software did not recognize the serial number.
Results: Fixed. Installation no longer requires a serial number.
Complaint 4: Fan is noisy.
Results: Not fixed, but HighPoint told me this would not be fixed in October. The four drives inside the RAID generate a moderate hum, so moving the RAID away from your ears is a good idea for audio-critical environments.
Complaint 5: User Guide images did not match the product.
Results: Fixed. They now match perfectly.

Complaint 6: The HighPoint RAID Management software required a password for the initial installation, which didn't work.
Results: Fixed. The software installed using a default password, allowing the ability to change the password after installation was complete. In fact, the total installation process took less than 30 seconds.
LARRY'S REVISED REVIEW: continued on next page