THE SUPPORT BLOCKADE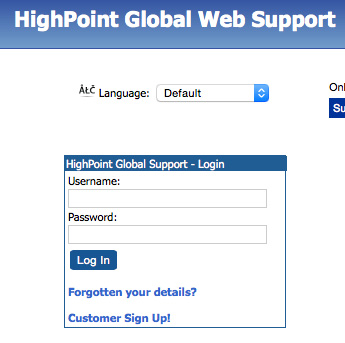 HighPoint requires a log-in to access support. Um, why? Are there secrets in support that need to be kept from the market?
OK. I create a new user account; enter all the required fields and leave the other 20 fields empty. At which point, I'm now a registered customer, except…
I still can't access support because I need a user name and password, which does not appear, nor is it referenced, when I'm registering as a customer. Instead, I discover that it gets emailed to me.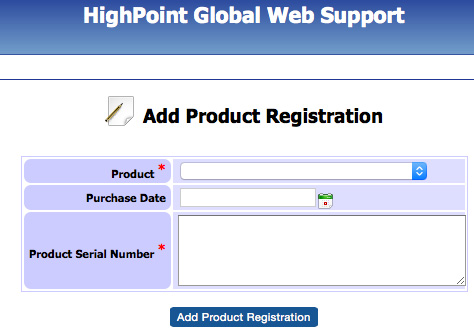 OK, have the login creditials, BUT, I still can't access support because I need to register my product; which I can't install, yet. So, as you can see above, I need to enter the information for my RAID.
Adding a product. Hmmm… need to add a serial number. Which is on the bottom of the system and the system is running. Sigh. Power off the system to avoid damaging the hard disks and turn it over to read the serial number.
I've now added the product name, purchase date and serial number EXACTLY as printed: RS6314A 1527M3M00046. And the registration failed, saying the serial number field can't be blank. It isn't blank – it EXACTLY matches the label on the bottom of the unit.
Dead in the water. Again.
I can't register the product, which means I can't access support, which means I can't get the correct user name and password to install the system, which means I need to figure out a different way to get this hardware to work.
THIS IS STUPID!!!
If the HighPoint RAID Management software is necessary for the installation of the product, then WHY??? is it password protected? Turn off the passwords. Let me install the unit and give me the option to enable passwords in the future. This is a direct-attached unit sitting on my desktop, it is not hidden away in some remote machine room.
Because of this one stupid decision, I have a hardware RAID that is little more than a doorstop. Not to mention a corporate support system which goes way out of its way to prevent customers and potential customers from accessing necessary product information.
This is short-sighted, restrictive, unnecessary and stupid. And you can quote me.