USER GUIDE NOTE
The PDF User Guide that ships with the HighPoint RAID Management software, which I can't access, goes into detail about how to install the software, but does not say one word about how to configure the RAID.
Nothing. Figuring out configuration is left totally to the user. The problem is, as you'll discover, the only way to configure this RAID as a RAID 5 or 6 is to use the HighPoint RAID utility. RAID 0 provides the fastest performance, but RAID 5 is a much better choice for most editing tasks.
NOTE: There is a Help system built into the Management software. But that only helps if you can actually access it.
PLAN B – DO IT YOURSELF
After turning the RAID system right-side up and powering it on, I went to Plan B: Read the Onscreen Instructions.

Remember those four error messages that appeared the first time I powered up the system. This time, I ignored the printed user guide that shipped with the RAID hardware and simply clicked "Initialize."

This opens Disk Utility. Click the word RAID at the header then…

Drag the four hard disks which have nothing indented on the left side into the big white block on the right. For example, in the screen shot, notice that the 4 TB G-RAID with Thunderbolt has an indented line under it? This means it is formatted and able to accept data.

Either before or after dragging, give the RAID Set Name a name and be SURE to select Striped RAID Set. This configures a RAID 0, which is very fast. Mirrored RAID Set configures a RAID 1 which is very slow. (Unless you need the data redundancy that RAID 1 provides, say as a DIT operator on set.)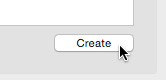 Click the Create button to configure the RAID.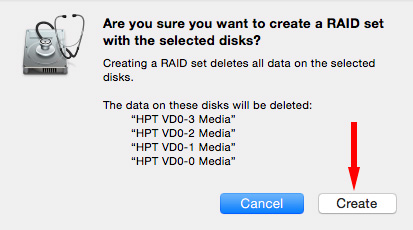 Accept the warning and click Create. Creating the RAID itself takes less than one minute.

Determine if you want to use the RAID for Time Machine. I have a separate drive for Time Machine and don't use drives that I plan to use for Media as Time Machine drives.